Members of the ATRIUM Cardiology Collaborative at the University of Maryland School of Pharmacy strive to lead therapeutics, research, and instruction to enhance pharmaceutical care for patients with cardiovascular diseases.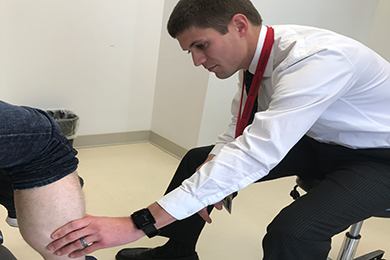 Featured Works:
Hines MC, Reed BN, Ivaturi V, Bontempo L, Bond M, Hayes BD. Diltiazem versus metoprolol for rate control in atrial fibrillation with rapid ventricular response in the emergency department. Am J Health Syst Pharm. 2016 Dec 15;73(24):2068-2076.
Laliberte BL, Reed BN, Ather A, Devabhakthuni S, Watson K, Lardieri AB, Baker-Smith CM. Safe and Effective Use of Pharmacologic and Device Therapy for Peripartum Cardiomyopathy. Pharmacotherapy. 2016 Sep;36(9):955-70. doi: 10.1002/phar.1795.
Rodgers JE, Reed BN. Acute Decompensated Heart Failure. Pharmacotherapy: A Pathophysiologic Approach, Tenth Edition. Dipiro JT, Talbert RL, Yee GC, et al, editors. New York: McGraw-Hill; 2017.
Cain J, Noel Z, Smith K, Romanelli F. Four Rights of the Pharmacy Educational Consumer. American Journal Of Pharmaceutical Education. 2014;78(6).
Coons JC and Devabhakthuni S. Chapter 1: Thrombolytics/Anticoagulants. In: Kane-Gill SL and Dasta JF, editors. High Risk IV Medications in Special Patient Populations. New York, NY: Springer-Verlag: London. 2011, pp 1-66. ISBN: 978-0-85729-605-4.
Devabhakthuni S, Buckley M, Kane-Gill SL. Incorporating Technology into Safe Medication Practices. Safe Medication Usage Guidelines. Society of Critical Care Medicine 42nd Critical Care Congress. San Juan, Puerto Rico. January 2013.
Devabhakthuni S, Reed BN, Watson K. Development and Implementation of an Interactive Web-Based Regional PGY2 Cardiology Pharmacy Residency Journal Club. Am J Health Syst Pharm 2016;73:1300.
Kane-Gill SL, LeBlanc JL, Dasta JF, Devabhakthuni S; for the Critical Care Pharmacotherapy Trials Network (CCPTN). A multicenter study of the point prevalence of drug-induced hypotension in the ICU. Crit Care Med. 2014; 42:2197-2203.
Noel ZR, Beavers CJ, Proprotein Convertase Subtilisin/Kexin Type 9 Inhibitors: A Brief Overview. The American Journal of Medicine. October 2016. doi: 10.1016/j.amjmed.2016.09.021.
Reed BN, Fox ER, Konig M, Jackevicius CA, Masoudi FA, Rabinstein AA, Page RL 2nd. The impact of drug shortages on patients with cardiovascular disease: causes, consequences, and a call to action. Am Heart J. 2016 May;175:130-41.
Shulenberger CE, Jiang A, Devabhakthuni S, Ivaturi V, Liu T, Reed BN. Intravenous chlorothiazide versus oral metolazone in patients with acute decompensated heart failure and loop diuretic resistance. Pharmacotherapy. 2016 Aug;36(8):852-60. doi: 10.1002/phar.1798.
Watson K, Devabhakthunki S, Reed BN. Don't Flip Out: Flip Your Rotation. National Pharmacy Preceptors Conference, American Society of Health-System Pharmacists. August 2016.
Wiggins BS, Saseen JJ, Page RL 2nd, Reed BN, Sneed K, Kostis JB, Lanfear D, Virani S, Morris PB; American Heart Association Clinical Pharmacology Committee of the Council on Clinical Cardiology; Council on Hypertension; Council on Quality of Care and Outcomes Research; and Council on Functional Genomics and Translational Biology. Recommendations for Management of Clinically Significant Drug-Drug Interactions With Statins and Select Agents Used in Patients With Cardiovascular Disease: A Scientific Statement From the American Heart Association. Circulation. 2016;134:e468-e495.
Watson K, Leon N. Have a Great First Day! Starting Your Rotation Off on the Right Foot. National Pharmacy Preceptors Conference, American Society of Health-System Pharmacists. August 2016.
Additional Works:
Explore some additional works from members of the ATRIUM Cardiology Collaborative that highlight the group's advanced-level clinical practice and training, innovative instructional methodology, and significant contributions to science, as well as reinforce their expertise in the field of cardiovascular pharmacotherapy.