Deciding which pharmacy school to attend is one of the biggest decisions a prospective student pharmacist will make. Students who attend a "Big Ten" pharmacy school can rest assured that they have joined a premier institution.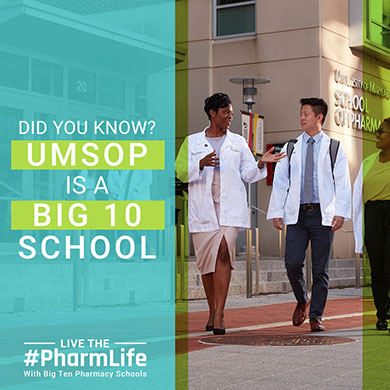 In addition to enjoying high ranks nationally each year, Big Ten pharmacy schools like the University of Maryland School of Pharmacy offer the following advantages for their students:
Nearly all Big Ten pharmacy schools have a proven track record of residency placement.
Big Ten pharmacy schools understand the financial stress of post-graduate education, and as a result, provide the leading number of scholarship opportunities.
Enjoy high earning potential. A Doctor of Pharmacy (PharmD) degree from a Big Ten school can mean an average starting salary of six figures.
Join fellow graduates of Big Ten pharmacy schools who are making a mark on the health industry.
Receive support every step of the way — whether it's helping you with your application, making your decision to attend easy, guiding you on course selection or helping you with career counseling, Big Ten pharmacy schools are committed to students' success.
Receive hands-on training while in school that will provide you with valuable insight into the type of pharmacy work you may want to do post-graduation. In fact, students are often able to walk across the street and learn at a local health center affiliated with each of the Big Ten pharmacy schools.
Receive an education that is rich with unique, innovative courses, above and beyond the classroom setting.
Work side-by-side with clinicians and researchers, and enjoy the opportunity to learn from leaders in the field. Big Ten pharmacy school faculty rosters are stacked with best-in-class educators who are committed to helping students advance their knowledge and skills.
Gain valuable insights and mentorship from the best in industry.
Access valuable networking opportunities.