Graduates of the Doctor of Pharmacy (PharmD) program at the University of Maryland School of Pharmacy go on to pursue very rewarding careers in a wide range of settings.
Explore the student and alumni testimonials below to learn more about their unique experiences and how the education they received at the School of Pharmacy has helped them advance their careers.
Student Testimonials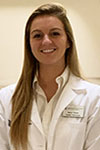 Maria Palmer is a second-year student pharmacist at the School of Pharmacy.
I grew up in a family that stressed the importance of giving back and helping other people. I also experienced several minor health problems when I was young, and had more than my share of broken bones, stitches, surgeries, and various viruses. By the age of 16, I had more medical experiences than most people my age. This fueled my interest in following my heart and creating a new path to help others while pursuing my passions.
I knew that I wanted to make more of an impact on health care as we see it today, and chose to return to school to pursue a PharmD degree. Attending a "Big 10" pharmacy school like the University of Maryland School of Pharmacy is an honor. The faculty and staff members come from diverse backgrounds and are all extremely knowledgeable professionals who are up-to-date on current events in the profession. They use their personal experiences to offer advice to new students who are just stepping into the field.
Having a school comprised of top professionals and researchers, as well as students who have conquered the competition to earn their seat at a Big 10 pharmacy school creates a unique environment — one that encourages students to perform to the best of their ability; to be involved on campus, in the community, and at the state level; and to push themselves to grow into future leaders.
If you have an interest in health care and are inspired to help other people, follow your passion. There are many paths to achieve this goal, and each person will have a different journey. The School of Pharmacy embraces this diversity. There are so many different opportunities within pharmacy that there is truly a place for everyone in the profession.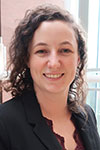 Caroline Russell is a third-year student pharmacist at the School of Pharmacy.
As a Big 10 pharmacy school, the University of Maryland School of Pharmacy's focus on research and leadership is unparalleled. Having the opportunity to engage in research here makes me feel more connected to current issues in pharmacy and inspires me to continue my own research after graduation.
In addition, the growth that I have witnessed in my leadership skills and experience since my first year as a student pharmacist has been tremendous. I would have never thought I would be the leader I am today, and I am thankful to study at a school that pushes these skills and ideas, and even provided me with an opportunity to serve as a government affairs intern with the American Soceity of Consultant Pharmacists (ASCP). I was able to meet with legislators on Capitol Hill, where I advocated for patients in long-term care settings. I learned just how far my PharmD degree will take me, and was inspired to continue my work in this area advocating for both pharmacists and patients.
Alumni Testimonials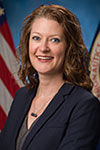 Dr. Bayuse is lead pharmacist for pharmacy operations at the NASA Johnson Space Center.
You could say Bayuse is in community pharmacy, only her clients tend to be in space. As the lead pharmacist for pharmacy operations at the NASA Johnson Space Center (JSC) in Houston, Texas, Bayuse is responsible for providing pharmaceutical care and medication management to both the terrestrial and spaceflight-based employees at JSC. Her work encompasses everything from promoting a healthy workforce and providing pharmacy support for workplace injuries to managing care for astronauts.
"Space medicine pharmacy practice is a major part of our work and what makes the pharmacy team at JSC unique," she states. "We provided services to the Space Shuttle Program before it retired, and now to the continuously crewed International Space Station. In my role as pharmacy operations lead, we've already begun work for commercial crew flights, which are on the horizon."
This out-of-this-world career owes itself in part to a pivotal opportunity while at the School of Pharmacy.
"I was granted permission to create a pharmacy rotation at JSC in the Pharmacology Lab," she explains. "It didn't fit neatly into a pharmacy practice experience category at the time. I was incredibly fortunate to have the Experiential Learning Program's management and faculty support and encouragement to create one. That seemingly small event opened the door to the career I now enjoy."
Bayuse also has been pleased to see her career grow during an evolutionary time when pharmacy has become an essential part of any comprehensive health care team. This is certainly apparent as NASA begins to research and plan for explorations beyond the International Space Station. In 2016, Bayuse joined the Exploration Medical Capabilities Element. As part of this new, multidisciplinary team, she provides pharmaceutical expertise and research that will be essential to one day helping astronauts on places like Mars.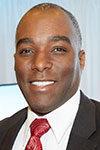 Dr. Farrakhan is clinical contract manager at Xerox Government Healthcare Solutions.
One might say that Farrakhan's desire to take chances began at the School of Pharmacy, when he enrolled in the School's dual MBA degree program with the University of Baltimore. He knew early on that he wanted to combine his love of pharmacy with his desire to work for himself. His first job out of pharmacy school was in retail pharmacy, a job he loved but one he knew he needed to leave if he wanted to achieve his professional goals. Now a contract clinical manager for Xerox Government Healthcare Solutions, Farrakhan works with the Maryland Medicaid Pharmacy Program, dealing with Medicaid pharmacy point-of-sale claims including processing, system programming, and prior authorization. Leaving traditional employment and taking this contract position was the beginning of his path toward entrepreneurship. He and his wife, Tecoya (PharmD '02, MBA), a fellow School of Pharmacy alum, started Primo Pharmacy Services, a pharmacy staffing company, in 2007 that they plan to grow while launching their health and wellness practice, Wellness to a T.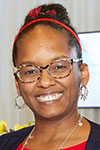 Dr. Farrakhan is co-owner of Wellness to a T, LLC.
Resourcefulness and resiliency are qualities Farrakhan says were ingrained in her during pharmacy school, and these attributes are ones she says are very present in both her personal and professional life today. Practicing resourcefulness and resiliency throughout her career, first as a staff pharmacist at Safeway and then as a small business owner with her husband, has given her confidence to take on new challenges, like entrepreneurship. Next for her is the launch of Wellness to a T, the second small business she will have started with her husband and fellow School of Pharmacy alum Karriem (PharmD '03, MBA). The company will focus on maximizing patients' health and wellness by offering health coaching that empowers physical and emotional healing from the inside out. As a pharmacist, she will provide additional patient consultations to address the gaps often created by time constraints and other challenges in most health care provider settings.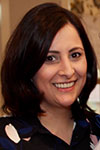 Dr. Haddad is a pharmacist consultant in the Division of Unintentional Injury Prevention at the Centers for Disease Control and Prevention (CDC).
Growing up in a family with a long history of diabetes, Haddad knew she wanted to enter a health care field so she could have a positive impact on patients. "When I applied to pharmacy school, I had the vision of working in a community pharmacy setting, building close relationships with patients, helping them understand their medications and planning ways to manage their disease states," she explains.
While in School, she became increasingly interested in geriatric care and geriatric pharmacy, choosing electives that would expand her training with older adults. She advises new students to take advantage of the School's extracurricular activities with local, state, and national pharmacy associations, as they provide important exposure to different fields of pharmacy and expand one's professional network. Haddad continued to follow her geriatric specialty, becoming board certified in geriatric pharmacy. She also obtained an Executive Master's in Public Health.
In many ways, her current CDC position fulfills the spirit of her initial career goals, even if it doesn't look exactly as she'd planned. She now leads research examining medications associated with older adult injuries from falls and motor vehicle accidents and also manages cooperative agreements with health care systems in discharge planning and community pharmacy settings to evaluate the implementation and use of medication management as a fall prevention strategy. Additionally, she serves as the primary pharmacist in Georgia providing disease state management training to enrolled patients in the School of Pharmacy's P3 Program, which expanded to her state several years ago.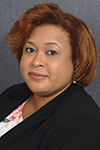 Dr. Kemp is a clinical pharmacy specialist at Methodist University Hospital.
Before her admission to the PharmD program, Kemp's only interaction with pharmacy was as a customer at a retail store. But her four years at the School of Pharmacy, and subsequent one-year residency at the University of Maryland, transformed her into the clinical pharmacy specialist she is today. Following completion of her residency, Kemp moved to Memphis, Tenn., for a clinical pharmacist position at Methodist University Hospital, where she split her time between the oncology satellite clinic and the hospital's fledgling pain and palliative care service. Three years later, she was promoted to clinical pharmacy specialist focused on pain and palliative care. Kemp now spends the majority of her time on the oncology service, a move she has embraced as part of her evolution. She sees her career continuing to evolve and dreams of working in academia or administration, being actively involved in research and in the development of pharmacy students, residents, and clinical practice sites.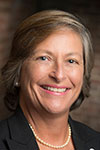 Dr. Maldonado-Dávila is dean of the University of Puerto Rico School of Pharmacy.
Maldonado-Dávila recalls the collegiality between students and teachers as being an important part of her time at the School and credits the mentorship she received from faculty while she was a student, as well as after graduation as being an asset to her professional development. Now, she's shaping a new generation of students as dean of the School of Pharmacy at the University of Puerto Rico, where she's led curriculum development and implementation that's providing graduates a competitive edge in the workforce.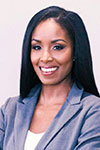 Dr. Nkobena is senior manager and clinical scientist at BeiGene.
As a clinical scientist at BeiGene, a biopharmaceutical company, Nkobena is responsible for various aspects of clinical trial design, from startup through execution and closeout. It is a career pathway that opened to her while she was a student at the School. She explains that it's in her nature to seek out new opportunities and places of discovery. At the School, she was active in a variety of student organizations, so she could network with influential leaders in the pharmacy profession. "I worked on translational and clinical studies while I was in pharmacy school," she adds. "Through these different types of experiences, I discovered that I wanted a career that drew upon my research capabilities."
The "defining moment" in her career journey was her fourth-year rotation at Eli Lilly, where she watched pharmacists guiding drugs from discovery to launch. She knew that working in industry she, too, could impact millions of patients through the development of drugs. During a two-year fellowship in clinical development at MedImmune, she received an in-depth look at the work she does today on a global scale.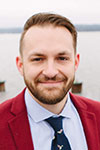 Dr. Penzenstadler is a clinical pharmacologist at the U.S. Food and Drug Administration (FDA).
By his own admission, Penzenstadler "was not your typical student." After having limited success in his clinical courses as a PharmD student, he discovered pharmacokinetics. Its marriage of clinical and quantitative science made perfect sense to him, even if it didn't lead him on the postgraduate path he'd anticipated — joining his father in his independent community pharmacy business.
Instead, Penzenstadler is at the FDA, where he reviews clinical pharmacology information in applications for new and investigational drugs. His position involves everything from evaluating studies conducted by pharmaceutical developers to understanding how patient factors relate to benefit and risk.
He explains that the School's Center for Translational Medicine and the MS in Pharmacometrics program taught him the skills needed to succeed in clinical pharmacology and that being a clinician as well as a scientist gives him a broad understanding of the health care landscape. He recalls that his professors also were deeply vested in his success.
"They provided research opportunities to get my feet wet, opportunities to go to conferences to present my work, and helped me connect with the right people," he says. "This allowed me to demonstrate value on rotations, especially my rotation at FDA."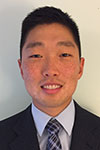 Dr. Schnupp is the laboratory director at Atlantic Test Labs, Inc.
"I never thought I would end up working in the medical cannabis industry," says Schnupp. Atlantic Test Labs is an ISO 17025-accredited testing laboratory (one of four licensed in the state of Maryland) that performs quality control analyses on medical cannabis products before they are released for distribution.
"But, I feel honored and fortunate to be put in such a position," he says. "This rapidly growing industry desperately needs the knowledge, professionalism, and integrity of health care professionals, and pharmacists are in a unique position to deliver that need."
Schnupp expected to follow his father's example and enter hospital pharmacy, but doing one-week rotations as a new student — both of which led to paid positions on weekends and breaks — exposed him to a broader view of the profession.
"The most critical lessons I learned occurred on rotations. One was in a hospital setting and the other was at an independent pharmacy. My time spent working at these two positions exposed me to two very unique environments, which played a critical role in preparing me for the workplace."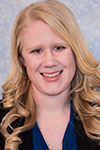 Dr. Strauss is manager of clinical programs for EPIC Pharmacies, Inc.
When Strauss learned she'd been accepted into the School of Pharmacy, she didn't really know what she would do with a PharmD degree. She knew she wanted to impact patients and the pharmacy profession in a positive way.
At the School, she learned how, particularly through rotations that connected class work with real experience. She also learned the importance of strong mentors. These have played an important role throughout her career.
"I began to lean toward community pharmacy practice, getting a feel for that part of the profession through summer intern programs and part-time work in local retail pharmacies," she explains. "As I drew closer to graduation, I knew that I was ready for the working world and decided not to pursue a residency program, instead going directly into community pharmacy practice."
After graduation, Strauss worked in community pharmacy, but her natural creativity and desire to apply more of what she learned at the School on a larger scale had her looking elsewhere. Through a network connection from the School, an opportunity presented itself at EPIC Pharmacies that would enable her to make a national impact.
At EPIC Pharmacies she created (and now leads) the organization's first Clinical Programs Department in the implementation and expansion of clinical programs and services. She works closely with medication therapy management (MTM) vendors to increase pharmacy engagement in, and knowledge of, MTM services. She wants to see an increase in community pharmacy engagement with services such as MTM, immunizations, and medication synchronization and how those will advance the role of community pharmacists across the nation.
Why Pursue a Pharmacy Career?
Pharmacy professionals benefit from excellent earning potential and are consistently ranked as one of the most highly trusted health care professionals due to the care and service they provide.
Learn More About the Benefits of a Pharmacy Career