Learn more about the faculty and staff at the Center for Translational Medicine by exploring the brief biographies provided below.
Joga Gobburu, PhD, MBA
Director, Center for Translational Medicine
Dr. Gobburu is a world-renowned scientific leader in the area of quantitative disease models and their applications to decisions. He is best known for transforming the field of pharmacometrics into a decision-supporting science. His experience as a senior biomedical research scientist and Director of Pharmacometrics at the Food and Drug Administration (FDA) gives him unique insight into the technical, regulatory, and decision-making aspects in all phases of drug development. He obtained his BPharm and MSc in chemistry from the Birla Institute of Technology and Science, his PhD in pharmaceutical sciences from North Dakota State University, and his MBA from Johns Hopkins University.
---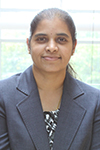 Mathangi Gopalakrishnan, MS, PhD
Research Assistant Professor
Dr. Gopalakrishnan's main research interests include pharmacometrics, Bayesian applications in drug development, and innovative clinical trial designs. She obtained her bachelor's and master's degrees in pharmacy (BPharm and MPharm) from Birla Institute of Technology and Science in Pilani, India. She completed her master's and doctorate in statistics from Department of Mathematics and Statistics at the University of Maryland, Baltimore County (UMBC).
---
Vijay Ivaturi, PhD
Research Assistant Professor
Dr. Ivaturi's research focuses on the development of methods and tools for quantitative clinical pharmacology. He obtained his doctorate in experimental and clinical pharmacology from the University of Minnesota, which he followed with a post-doctoral fellowship in pharmacometrics at Uppsala University in Sweden.