Baltimore is a colorful and diverse city. It is Maryland's largest city and is known for its beautiful harbor, prestigious academic and medical institutions, quirky and distinct neighborhoods, and unique museums.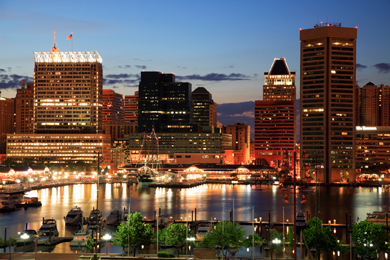 Settled in the early 17th century, Baltimore is named for Lord Baltimore (Cecilius Calvert) in the Irish House of Lords. A major seafaring and trading community in its earliest days, the city played a key role in events that shaped the history of the United States, including the American Revolution, War of 1812, and World Wars I and II.
With hundreds of identified districts, Baltimore has sometimes been dubbed "a city of neighborhoods," but is more commonly known as "Charm City." Once a working class port town focused on steel processing, shipping, auto manufacturing, and transportation, Baltimore now boasts a modern service economy led by high-tech and biotech industries, medicine, and tourism. The Inner Harbor, which was so important in the city's earliest days, has become the model for cities around the world. Entertainment facilities such as Harborplace, the Maryland Science Center and National Aquarium have replaced old wharves and warehouses, and state-of-the-art stadiums have been constructed for the Baltimore Orioles and Baltimore Ravens. A few miles away, billion dollar biotechnology parks attract the world's leading scientists.
Baltimoreans take pride in their city, yet they continue to welcome and amaze visitors with "down to earth, small town" spirit and hospitality.