University of Maryland School of Pharmacy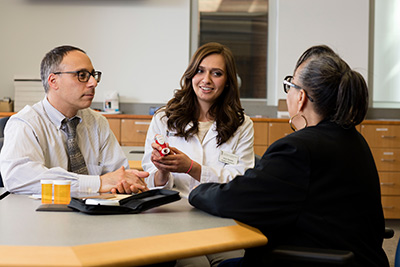 Become a catalyst for change
Every day, UMB harnesses the power of scholarship, research, and collaboration in the search for solutions to complex problems impacting individuals, families, and communities.
Your Gift Moves UMB Forward
School Events
22
Oct
Flu Shot Clinic
10:00 AM |

1st Floor Tower of the Library
Flu season is right around the corner. Get vaccinated early at the Flu Shot Clinic sponsored by the School of Pharmacy and the HS/HSL and provided by Walgreens.
23
Oct
Drug Take-Back Day
10:00 AM |

SMC Campus Center
Turn in your unused or expired medications for safe disposal at the SMC Campus Center.
30
Oct
Paul A. Pumpian Memorial Lecture
1:00 PM
Paul A. Pumpian Memorial Lecture: "Economic, Clinical, and Humanistic Outcomes: The Pharmacist's Pivotal Role in Personalized Pharmacotherapy"
The curriculum challenges us to become the best pharmacists in the nation. The faculty teach us in a way that most students will never experience.
John Hodgson, Class of 2019