The University of Maryland School of Pharmacy established a more visible presence in Montgomery County with the opening of a distance learning program at The Universities at Shady Grove in Rockville in August 2007.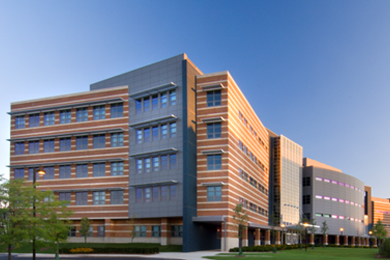 By expanding our PharmD program to Shady Grove, the School was able to grow its class size by a third, using web-based technology to deliver lectures asynchronously from our Baltimore-based faculty. The 160 students at Shady Grove are served by resident faculty members who facilitate discussions, monitor examinations, provide tutoring and liaison with Baltimore.
Establishing a program at Shady Grove forges a link between the School's scientific and clinical faculty with the rich resources of the I-270 biotechnology corridor and federal facilities such as the National Institutes of Health, Food and Drug Administration, the National Institute of Standards and Technology, and the U.S. Public Health Service.
The opportunities for collaboration and synergy in the region are significant, in professional education, research, clinical practice, and community service. The results of such collaboration will be felt not only at Shady Grove, but also at our home campus in Baltimore and throughout the state of Maryland.