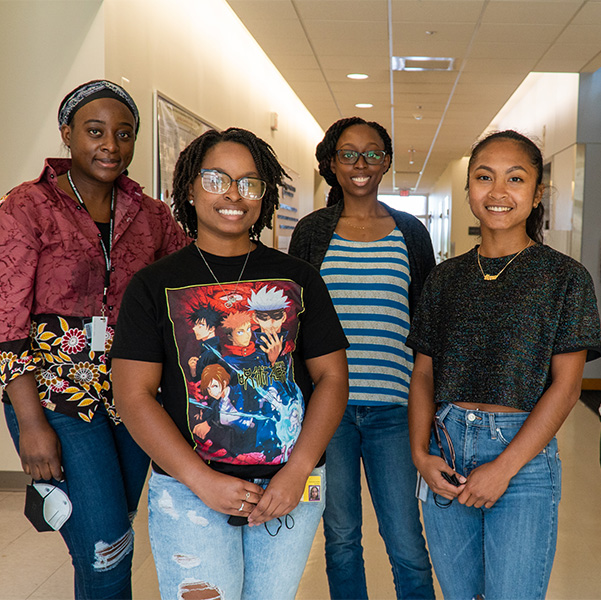 We strive to advance basic, translational, and clinical research across the spectrum of drug discovery and development.
With strengths in structure-based drug design, our expertise in physical, computational, synthetic, and protein chemistry cuts across several centers of excellence in Computer Aided Drug Design, Nuclear Magnetic Resonance (NMR), and Mass Spectrometry. Innovative research in complex biological systems, proteomics, metabolomics, pharmacogenomics, and therapeutic engineering seeks to develop targeted innovative medicines and devices to improve human health. Optimization of therapeutic dosing regimens is the goal of our concentrated efforts in pharmacokinetics, pharmacometrics and drug delivery, including nanotechnology. Interdisciplinary research in collaboration with the University of Maryland School of Engineering is the primary focus of the Bio- and Nano-technology Center. Collaborative partnerships with other campuses and the US Food and Drug Administration are the focus of the Center of Excellence in Regulatory Science and Innovation and the Center for Research on Complex Generics.
Research in the Department of Pharmaceutical Sciences
In this video, hear about the wide array of research activities within the Department of Pharmaceutical Sciences (PSC) at the School of Pharmacy from the associate dean for research and advanced graduate studies and professor of PSC, Paul Shapiro, PhD.
Learn More about Research in PSC
Good Manufacturing Practices (GMP) Facility
The GMP facility ensures medications given in clinical trials have the proper safety, quality, and purity attributes. In a short video, director of the GMP facility and professor of pharmaceutical sciences, Steve Hoag, describes his facility's capabilities and mission.
Watch and Learn More
Research conducted in the department is interdisciplinary, and researchers have access to state-of-the-art facilities.
Our current research areas include medicinal chemistry, biochemistry, bioinorganic chemistry, cellular and molecular biology, computational chemistry, biophysics, microbiology, neuroscience, pharmacometrics, pharmacokinetics, drug formulation, drug transport and delivery, industrial pharmaceutical resarch, and translational and regulatory sciences.
Department Newsletter
The Department of Pharmaceutical Sciences publishes a periodic newsletter that contains the latest information and updates about special topics of interest in the department.
Explore Current Issue