The P3 (Patients, Pharmacists, Partnerships) Program® represents the clinical initiative arm of the Center for Innovative Pharmacy Solutions (CIPS).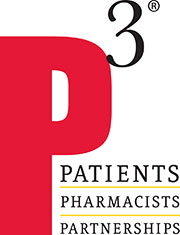 The P3 Program provides the most unique, effective, and proven solutions to a wide range of issues across the fields of chronic disease self-management and patient-centered health education. It leverages the expertise of specially trained and certified clinical pharmacists to offer a model of care that delivers effective medication therapy management solutions to your unique population (federal, state, or commercial organizations).
The program is tailored to identify potential medication related problems and health care risks, and provide solutions that help mitigate those risks.
About the P3 Program
Watch this short video to learn more about how the P3 Program is helping employers across federal and state governments and industry improve chronic disease management for their employees. Contact cips@rx.umaryland.edu to learn how the program might be able to help your employees achieve their health goals.
Learn more about how the P3 Program can help you or your company achieve important health goals.
FOR HEALTH PLANS, HEALTH SYSTEMS, PROVIDERS, AND BUSINESS PARTNERS
The P3 Program offers a wide range of chronic disease management, medication therapy management, transitions of care, and other programs to meet the Centers for Medicare and Medicaid Services (CMS) requirements, improve 5-STAR ratings, exceed HEDIS measures, and meet all goals for improved population health, reduced costs, and overall patient care.
Learn how our program can customize a program that is perfect for your unique patient population.
FOR PATIENTS
As a patient enrolled in the P3 Program, you can expect exceptional one-on-one experiences with a pharmacist who will address your unique needs.
The service comes to you through our direct videoconferencing, telephonic, or face-to-face outreach, with all communications taking place in the comfort and privacy of your own home or workplace.
Learn what more you can expect as a patient with our program.