Dr. Daniel Mansour is the interprofessional clinical coordinator for the Peter Lamy Center on Drug Therapy and Aging at the University of Maryland School of Pharmacy.
About Dr. Mansour: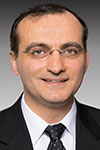 Daniel Z. Mansour received a Doctor of Pharmacy degree from the University of Maryland School of Pharmacy in 2006 and completed residency training in geriatrics at the VA Medical Center in Minneapolis, Minn. He has practiced in many pharmacy settings, including hospital, subacute medicine, community, and consultant pharmacy. Throughout his career, Dr. Mansour has collaborated with multidisciplinary teams to meet the medication-related needs of older adults. This collaboration has led to an innovative model of care in subacute/long-term care that is being disseminated to more than 400 rehabilitation centers. Additionally, he is actively involved in developing community and School of Pharmacy-sponsored medication therapy management programs to help older adults age in place. He is advocating for expanding pharmacists' services and has chaired the Health Informaction Exchange Task Force with the Maryland Healthcare Commission and the Chesapeake Regional Information System for our Patients.
His clinical research initiatives have focused on improving the care of patients with dementia, which led to a publication in the American Journal of Geriatric Pharmacotherapy and a book chapter in Dementia Care in 2015.
Dr. Mansour is currently the clinical coordinator of Interprofessional Education in Geriatrics at the School of Pharmacy's Peter Lamy Center on Drug Therapy and Aging. He is certified by the Board of Pharmacy Specialties and has certification in geriatric pharmacy. He is a Fellow of the American Society of Consultant Pharmacists (ASCP) and currently serves as immediate past president and chair of the board of ASCP's Maryland Chapter.
Contact Information:
Daniel Mansour, PharmD, BCGP, FASCP
Interprofessional Clinical Coordinator
The Peter Lamy Center on Drug Therapy and Aging
University of Maryland School of Pharmacy
220 Arch Street, Room 01-124
Baltimore, MD 21201
Phone: (410) 706-2434
Fax: (410) 706-1488
Email: dmansour@rx.umaryland.edu