The Peter Lamy Center on Drug Therapy and Aging at the University of Maryland School of Pharmacy is a hub of information and research for graduate and pharmacy students interested in geriatrics and gerontology issues.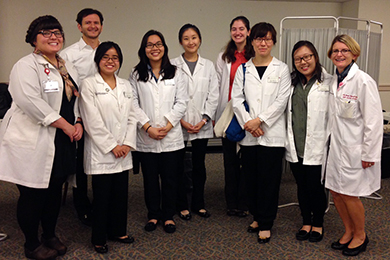 To learn more about the outstanding opportunities to further your training in geriatrics and palliative care, please explore the links below. For additional information, please contact any member of the faculty and staff listed on this website.
Continuing Education
The Peter Lamy Center on Drug Therapy and Aging offers a number of continuing education opportunities for health care professionals throughout the year. New opportunities will be posted here as they become available.
Geriatric Pharmacy Residency Program
The PGY-2 Geriatric Pharmacy Residency Program offers a one-year, postdoctoral residency in geriatric pharmacy practice that combines clinical, administrative, and research components to provide the resident with invaluable skills to pursue leadership roles in the field of geriatrics. The purpose of the program is to prepare the resident to function as part of an interprofessional geriatric patient care team. The resident will be adept at managing a broad range of health and medication issues that impact older adults in a variety of patient care settings, such as ambulatory and long-term care.
Interprofessional Training Modules
The Medication Management in Older Adults program within the Peter Lamy Center on Drug Therapy and Aging offers two interprofessional training modules that outline best practices in dementia care for older adult patients and falls prevention among older adult populations.
Medication Management for Older Adults
Maintained by the Peter Lamy Center on Drug Therapy and Aging, the goal of the Medication Management for Older Adults website is to provide educational and clinical resources related to medication management for older adults for health care practitioners, allied health providers, and students.