Preceptors are full-time, part-time, or volunteer faculty or practitioners (usually pharmacists) who serve as practitioner-educators for the Experiential Learning Program (ELP).
Preceptors oversee students in introductory and advanced pharmacy practice experiences, which meet specific curricular outcomes. Exemplary preceptors are role model practitioners and effective teachers, who encourage self-directed learning with constructive feedback to student pharmacists.
We are looking for individuals who enjoy teaching, seek to give back to the profession, desire to share expertise, and may serve as student mentors.
PLEASE READ THE ENTIRE PAGE BEFORE STARTING THE APPLICATION PROCESS. PLEASE ALSO ENSURE YOU CAN COMMIT TO THE MANDATORY REQUIREMENTS BELOW BEFORE SUBMITTING AN APPLICATION.

Application Deadline Dates:
Applications received between Dec. 2 – Mar. 15
Preliminary appointments on or about Mar. 31
Applications received between Mar. 16 – June 15
Preliminary appointments on or about June 30
Applications received between June 16 – Sept. 15
Preliminary appointments on or about Sept. 30
Applications received between Sept. 16 – Dec. 1
Preliminary appointments on or about Dec. 15
**PLEASE READ ENTIRE SECTION AND ENSURE YOU CAN ADHERE TO THE PRECEPTOR REQUIREMENTS PRIOR TO APPLYING TO BECOME A PRECEPTOR**
To Apply, You Must:
Be available to precept students during the 2019-2020 and 2020-2021 academic year. Please Note: To receive students for the upcoming year, you must apply by Dec. 1.
Have at least one year of experience in the field
Have a current Curriculum Vitae (CV), including job responsibilities, to upload with your application.
Complete the online preceptor application (Part 1 and Part 2: "Preceptor Application Questions"). Please Note: You will need a "sign up code" to complete the application. Please enter the code that pertains to you from one of the boxes below.
Complete the FERPA requirement, which will be completed at the time of submitting an application.
Complete Title IX Training, and upload the completion certificate to CORE ELMS. You can complete the training here. To access the training, please use the following access code: umarylandnae.
Complete new preceptor orientation with an ELP staff member.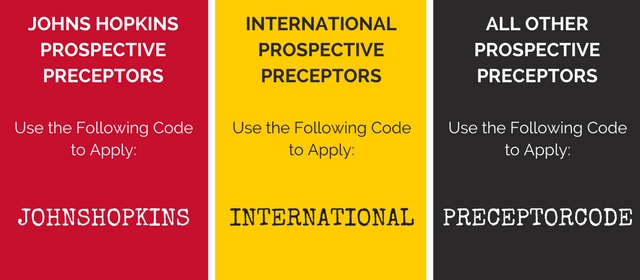 The online preceptor application is available to complete here. BE SURE TO USE THE APPLICABLE CODE TO ACCESS YOUR APPLICATION.
Johns Hopkins prospective preceptors, please enter the code JOHNSHOPKINS
International prospective preceptors, please enter the code INTERNATIONAL
All Other prospective preceptors, please enter the code PRECEPTORCODE
Please Note: You must meet the following requirements to receive a full approval, "Clinical Faculty" appointment from the University of Maryland School of Pharmacy.