The minimum requirements that each student must meet to receive the MS in Pharmaceutical Health Services Research (PHSR) are outlined below.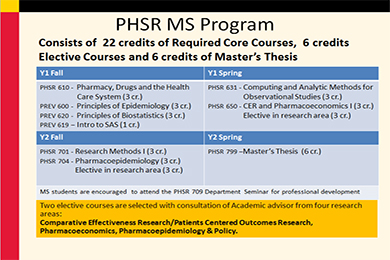 The MS in PHSR is designed to be completed in two years. To receive a master's degree, students must successfully complete select required courses – which include a group of core graduate courses in pharmaceutical health services research, research methods, and statistics – as well as six (6) credits of advanced courses in their chosen research area.
Some students might be required to take additional courses as deemed appropriate by the program director. In particular, students without strong computer programming skills may need elective courses.
To graduate, students must complete at a minimum:
Required Core Curriculum (22 credits)
Advanced Coursework (12 credits)
Thesis Option:
Electives Determined by student and program director (6 credits)
PHSR 799 Master's Thesis (6 credits) if pursuing thesis option
Non-Thesis Option: