Tim Cacek, PharmD, MS, is an alumnus and member of the inaugural class of the MS in Pharmacometrics program at the University of Maryland School of Pharmacy.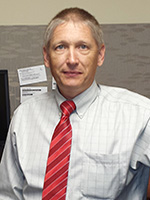 Tim earned his Bachelor of Science in pharmacy from South Dakota State University and his Doctor of Pharmacy from the Medical ‌University of South Carolina, where he was a member of Kappa Psi Pharmaceutical Fraternity and Rho Chi. He currently works as a hospital clinical pharmacist and independent pharmacometric consultant, with an emphasis on toxicokinetic and population modeling. Using the new knowledge and skills that he has gained from the program, Tim plans to work towards identifying the detailed pharmacokinetic properties of investigative drugs to aid in the making of informative and efficient decisions about their appropriate use.
What inspired your interest in the field of pharmacometrics?
From a very young age, I had a strong desire and determination to understand how drugs act within the human body. I remember visiting the local pharmacy as a child with my father and wondering how all of the different medications that I saw behind the counter affected the body. My objective is to use what I learned in the MS in Pharmacometrics program to develop new, novel drug therapies that achieve their product goals in the shortest amount of time.
What interested you most about the MS in Pharmacometrics program at the University of Maryland School of Pharmacy?
Having been in the pharmacy profession for several years, I realize how important it is to stay on top of the latest innovative techniques for assessing drug action. In order to stay competitive in today's pharmaceutical industry, businesses must continue to improve upon the services that they provide. The MS in Pharmacometrics program offered me the opportunity to gain the skills necessary to provide improved and additional services to my current and future customers.
How would you describe your experience in the program?
The MS in Pharmacometrics program exceeded my expectations. While the program description provided valuable insight into what would be taught, it was only after enrolling that I realized there was much more to be learned. As new topics were introduced, I worked harder and more diligently just to stay abreast. As one project came to a conclusion, a new project was introduced. All of the topics and coursework were connected, which allowed me to use lessons learned from previous projects and apply them to current and future projects.
What are your thoughts about the coursework offered through the program?
The coursework offered through the program is very demanding, but fair. I was introduced to a number of new subjects and investigative techniques, while learning new applications for some subjects with which I was already familiar. Course topics are well thought out and the learning materials are well organized. However, perhaps the most impressive aspect of this program is the knowledge that the instructors possess and their willingness to help students when necessary. Their "doors" are always open and they are always available for help or assistance.
What is your advice to prospective students who might be considering whether or not to apply to this program?
Students entering the MS in Pharmacometrics program should expect to spend a great deal of time learning and understanding the presented topics and completing the required projects. Since many projects are performed in a team setting, you must be willing and able to communicate well with others. Time management is a must, because many students will have full-time jobs or family obligations. While the program demands a lot from students, the sense of accomplishment is enormous. My personal advice to any student is to make a visit to the School of Pharmacy and spend time interacting with the instructors.