"Reduce Opioid Risk. Get a PharmAssist." is a public awareness campaign led by the University of Maryland School of Pharmacy, supported by a generous grant from the Maryland Department of Health and Centers for Disease Control and Prevention.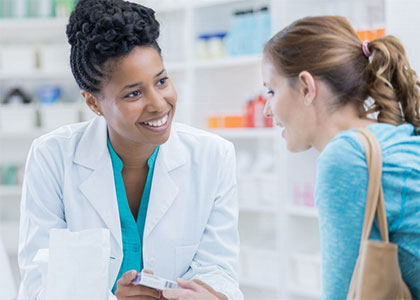 Drug overdose is the leading cause of adult accidental death in the United States. Community pharmacists can serve an important role in managing substance use disorders. The "Reduce Opioid Risk. Get a PharmAssist." campaign aims to explore the barriers and stigma surrounding the management of patients with opioid use disorder, and educate community pharmacists about naloxone and harm reduction strategies, as well as equip them with the tools needed to overcome barriers and stigma and have difficult conversations with patients.
The following materials produced by faculty and students at the School of Pharmacy are available at no cost to community pharmacists and the general public.
Video Resources
Explore the videos available on our YouTube channel to learn more about topics such as opioid overdose, naloxone administration, harm reduction, Maryland law, and pharmacotherapy to treat opioid use disorder. Visit the YouTube channel here.
Downloadable Materials
Additional printed materials are also available to help community pharmacists spread the word about the life-saving benefits of naloxone. Available materials can be downloaded in the table below, and include slides from our video modules, as well as educational materials that can be shared with patients.
For More Information:
If you have any questions about our campaign or would like more information about our work, please contact Bethany DiPaula, professor in the Department of Practice, Sciences, and Health Outcomes Research, at bdipaula@rx.umaryland.edu.