Mark your calendars for Advanced Methods in CER-PCOR: The 10-Step Framework as Our Advanced Methods Roadmap, scheduled for August 9-11, 2016 at the University of Maryland, Baltimore.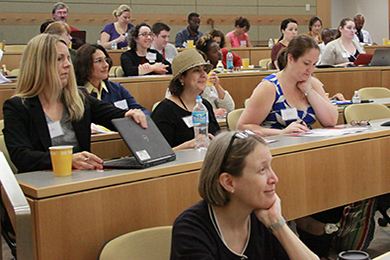 About the Event:
Advanced Methods in Comparative Effectiveness and Patient-Centered Outcomes Research (CER-PCOR): The 10-Step Framework as Our Advanced Methods Roadmap will be held at the University of Maryland, Baltimore from August 9-11, 2016, offering participants expert instruction and guidance on how to conduct advanced methods in comparative effectiveness research (CER) and patient-centered outcomes research (PCOR).
The Institute will build on the Fundamentals of CER-PCOR by strengthening and advancing current skills in engaging patients and other stakeholders. It will include in-depth exploration of the 10-Step Framework of Patient Engagement, specifically:
Selection of study design
Creation of data collection and analysis plans
Interpreting results
Dissemination of findings
Expert panelists will foster discussion. Lectures, active learning exercises, group discussion, and networking with colleagues add value to the nearly three days of intensive activity. Receive expert feedback on your CER-PCOR research plan or proposal during the half-day working session on August 11.
Who Should Attend?
Patients and patient advocacy groups interested in advancing their knowledge of CER-PCOR methods.
Researchers wanting to expand the use of CER-PCOR into their research programs.
Clinicians who assess and report on CER-PCOR study findings.
Students of all health disciplines interested in this new, emerging area of research.
Policymakers interested in CER-PCOR studies for decision-making.
Industry leaders who want to fully utilize CER-PCOR to shape company strategy, research plans, and positioning on this emerging area of research.
For More Information:
More information about the program -- including information about registration, location and accommodations, as well as an agenda -- is available on this website. If you have additional questions not addressed on this site, please contact cer-pcor@rx.umaryland.edu.