Terry Crovo, BSP '80, was an excellent pharmacist who specialized in the practice of oncology pharmacy. With the help of a student award recently endowed by his widow, Patricia Barditch-Crovo, MD, BSP '78, he will be remembered not just for his knowledge and skills, but also for the passion and humanity he brought to his work.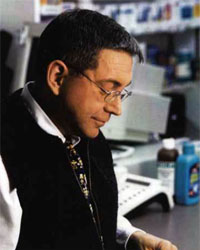 ‌The memorial award will be presented each year to a graduating senior who best exemplifies Terry Crovos qualities: professionalism, a strong work ethic, dedication to pharmacy practice, and sensitivity to the needs of patients.
The Crovos met while both were working at what is now the School of Pharmacys Maryland Poison Center, Pat Crovo recalls. "I thought he was just about the kindest, sweetest person I had ever met", she says. "He was just a wonderful person with a great sense of humor, a good heart, and very smart." In fact, the year he graduated, Terry Crovo won the Schools Pharmacognosy ("Weeds and Seeds") Award for exceptional work in medicinal chemistry and pharmacognosy.
Early in their relationship, she learned that Terry had been diagnosed with Hodgkins lymphoma at age 12, a condition that was treated at the time with large doses of radiation. The radiation did considerable damage to his body, and his health deteriorated to the point that he was in need of a heart and lung transplant when he died in July 2007.
Pat Crovo, a physician specializing in HIV/AIDS clinical medicine at the Johns Hopkins School of Medicine, said her late husbands illness made him a more sensitive and understanding pharmacist. He went out of his way to make things easier for patients, she says. He had real empathy and compassion for his patients.
When cancer patients were too sick to come into the pharmacy to pick up their medicine, Pat Crovo says, Terry Crovo made a point of going out to the car to speak with them and see if they had questions. He also advocated for patients, assisting them with often time-consuming and frustrating insurance issues. He always took the time to make sure his patients understood complex medication instructions.
As a medical colleague, she says, Terry Crovo was more than willing to answer questions from doctors, nurses, and other pharmacists about drug dosing and drug interactions.
Kelly Shaner-Miller, BSP 92, met Terry Crovo as a student and went on to work with him in the pharmacy at the Medical Center of Dundalk and Church Hospital. He was a fabulous teacher and mentor, says Shaner-Miller, who is now manager of the outpatient pharmacy at Union Memorial Hospital. Everyone who worked with him loved him. He went out of his way to be helpful.
Pat Crovo hopes the memorial award will encourage future pharmacists to embrace a collaborative approach to patient care. The way medicine has evolved over the years, it really requires a team approach, she says. There are so many chronic illnesses requiring a myriad of potentially interacting medications, and often more than one physician is involved in prescribing medications.
The pharmacist sees the big picture and knows what medications the patient is getting. Its one more level of checks and balances. There are certain things a patient might not ask or tell the physician, she says, but they will confide in the pharmacist, especially someone who is kind, accommodating, and knowledgeable all attributes that Terry embodied.