The University of Maryland School of Pharmacy offers several international Introductory and Advanced Pharmacy Practice Experience Sites.
Australia
Practice Site: The Royal Melbourne Hospital (Melbourne)
This rotation focuses on transplants, and student pharmacists will serve as an essential member of the transplant team evaluating immunosuppressant medications while gaining an appreciation of the Australian health care system.
Egypt
Practice Site: Children's Cancer Hospital (Cairo)
Students on this rotation will practice in a comprehensive pediatric oncology hospital, where they will participate in patient care and research and learn about health care organizations in Egypt and the surrounding region.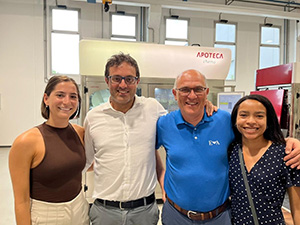 Italy
Practice Site: University of Camerino with locations in Rome, Ancona, Pesaro, Fermo, Perugia, Ascoli, and San Benedetto
Students will work in oncological/hematological, infectious diseases, and medical clinic wards, where they will learn about the Italian national system at the hospital and territorial level, with a focus on the role of the hospital pharmacist.
South Korea
Practice Site: Ewha Woman University College of Pharmacy (Seoul)
Students on this rotation will work with faculty in the College of Pharmacy and Graduate School of Pharmaceutical Sciences to develop research capacity and global perspectives on health care.
Thailand
Practice site: Siriraj Hospital (Bangkok)
Students on this rotation will gain exposure to a number of specialized outpatient clinics and inpatient care services where they will participate in rounds, medication reconciliations, and adverse drug event monitoring.
Zambia
Practice Site: University Teaching Hospital (Lusaka)
Students will gain an understanding of pharmacy practice across inpatient wards and outpatient clinics at the largest referral hospital in Zambia.
Other experiences outside of the continental United States:
Puerto Rico
Practice Site: University of Puerto Rico School of Pharmacy (San Juan)
Advanced practice pharmacy experiences in academia, advanced community pharmacy practice, community pharmacy management, complementary and alternative medicine, medication therapy management, and pharmacogenomics research are offered.