The US-Thai Consortium for the Development of Pharmacy Education in Thailand was founded in May 1994 when nine schools of pharmacy from the United States and the American Association of Colleges of Pharmacy (AACP) signed a Memorandum of Agreement (MOA) with eight schools of pharmacy in Thailand and the Committee for Pharmacy Manpower Development of the Thailand Ministry of University Affairs.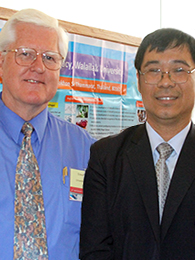 The mission of the consortium was to foster a formal link, on an institutional basis, in recognition of the long-term development plan of the Ministry of University Affairs to enhance the academic, research, and clinical programs of their Schools of Pharmacy and Pharmaceutical Sciences. The long-term goal of the program was to expand the number of pharmacy schools and pharmacy faculty members in Thailand, and the subsequent training of additional pharmacists for practice; thereby, strengthening both pharmacy education and practice to improve the health and welfare of the Thai people.
There are now 18 Thai and 16 US schools of pharmacy in the consortium. In July 2008, the MOA was renewed for an additional fourteen years, with consideration in 2022 to extend it again to 2037.
The official website for the consortium is http://usthai.pharmacy.psu.ac.th/.
US-Thai Pharmacy Education Consortium Universities:
Auburn University
Burapha University
Chiang Mai University
Chulalongkorn University
Eastern Asia University
Huachiew Chalermprakeit University
Khon Kaen University
Mahasarakham University
Mahidol University
Naresuan University
Ohio State University
Payap University
Phayao University
Prince of Songkla University
Purdue University
Rangsit University
Siam University
Silpakorn University
Srinakharinwirot University
Ubon Ratchathani University
University of Arizona
University of Florida
University of Illinois at Chicago
University of Iowa
University of Kentucky
University of Maryland, Baltimore
University of Minnesota
University of North Carolina
University of Texas
University of Utah
University of Washington
University of Wisconsin, Madison
Walailak University
West Virginia University