Members of the ATRIUM Cardiology Collaborative hold academic appointments at the University of Maryland School of Pharmacy. They are responsible for providing clinical pharmacy services, engaging in research and scholarly activities, and delivering instruction to pharmacy, medical, and nursing students.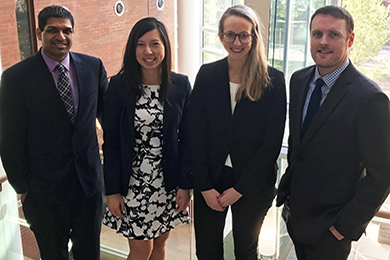 In addition to the services listed below, members of the ATRIUM Cardiology Collaborative are available for consultation. To learn more, contact the team at ATRIUM@rx.umaryland.edu.
Clinical Pharmacy Services
Members provide clinical pharmacy services at the University of Maryland Medical Center (UMMC) and Baltimore Veterans Affairs (VA) Medical Center in Baltimore, Md. They practice in the inpatient areas of general cardiology, heart failure, and advanced cardiovascular therapies at UMMC. Members also provide clinical expertise in cardiology ambulatory care clinics, specializing in the care of patients with heart transplant at UMMC and patients with chronic heart failure at the Baltimore VA Medical Center.
Research and Scholarly Activity
Members are active in research activities relating to the clinical use, safety, and efficacy of medications used for cardiovascular disease. They collaborate with other health care providers to improve patient outcomes in various areas of cardiology including cardiovascular critical care, chronic and advanced heart failure, cardiac transplantation, and mechanical circulatory support.
Instruction
Members are committed to delivering excellent training to the next generation of pharmacy educators, researchers, and practitioners in the area of cardiovascular pharmacotherapy. As a result, they are involved in the Post-Graduate Year 2 Cardiology Pharmacy Residency training program at the University of Maryland. In addition to teaching students, members provide educational programming for pharmacists and other health care providers. They arrange annual continuing education programs to present information regarding updates in cardiovascular pharmacotherapy to health care providers in Maryland.