Curricular Philosophy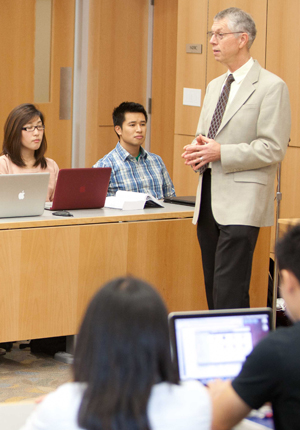 The Doctor of Pharmacy program at the University of Maryland equips our graduates with the knowledge, skills and abilities to enter practice prepared to meet the challenges of a dynamic health care environment. The curriculum is designed to provide an excellent foundation for those graduates who choose to gain additional training in residencies or fellowships, or choose to complete a graduate degree. Starting with the biomedical sciences, the curriculum progresses to patient care and expands to deal with system and population issues. The accompanying experiential curriculum begins with an emphasis on pharmacist's roles, progresses to a consideration of persons as patients and then focuses on population-based concepts in practice. As graduates transition into practice, they emerge as life-long learners prepared to advance the pharmacy profession to meet the current and future health care needs of society.
Educational Methodology
The University of Maryland School of Pharmacy engages student pharmacists through problem solving, critical thinking, continuous peer evaluation and self-assessment. Students work collaboratively in groups to prepare for careers in which they will serve as contributors to interprofessional teams. The School features nationally and internationally renowned faculty and state-of-the-art technology. The curriculum is delivered through a variety of approaches including recorded and synchronously delivered lectures, case discussions, small group activities, interactions with standardized patients, laboratories, and a broad array of experiential education opportunities. The Doctor of Pharmacy curriculum is both rigorous and flexible. Strengths of the curriculum are the wide variety of electives, specific pathways in research and practice, and the availability of dual degree programs in law, business, and public health.