Please explore the links below to learn more about how the Office of Development and Alumni Affairs supports the School's more than 7,000 alumni throughout their pharmacy and pharmaceutical research careers.
The Office of Development and Alumni Affairs at the University of Maryland School of Pharmacy recognizes the important role that alumni play in the School's continued success. Whether you are an active member of the Alumni Association or have not been in touch since graduation, this website will help you reconnect, get involved, and the access the helpful resources available to you as an alumnus.
Alumni Association: Learn more about how you can get involved with the School's Alumni Association, which strives to develop and foster rewarding, lifelong relationships between the School and its alumni.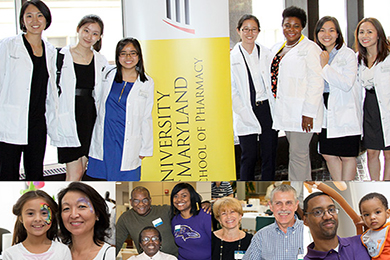 Class Notes: Complete our online form to update faculty, staff, and fellow alumni on what you have been doing since graduation.
Continuing Education: Learn more about the continuing education opportunities available to alumni through the School's Office of Continuing Professional Education.
Online Networking: The School of Pharmacy is pleased to offer alumni the ability to connect with fellow alums from around the world through a new online networking platform. Share your experiences, exchange career tips and build your professional network using Brazen.
Publications: Stay up-to-date on the latest news from the School of Pharmacy by perusing the different publications periodically published by the School.
Request Transcripts: Need a copy of your official transcript? Request one online through the University's Office of the Registrar.
School License Plate: "Ride with Pride" and show your support for the School of Pharmacy by ordering a custom School license plate for Maryland automobile owners.
Update Contact Information: Help the Office of Development and Alumni Affairs stay in touch with you by providing us with your updated contact information.