It is a fitting tribute to his many accomplishments that the Center is named in honor of Dr. Peter P. Lamy.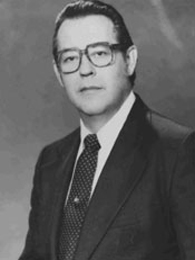 Born in Breslau, Germany, Dr. Lamy later became a naturalized citizen of the United States. In his early career, he worked as chief of pharmacy services at the U.S. Army Hospital in Ft. Austin, Va., and taught at the Women's Hospital of Philadelphia and, later, at Catholic University in Washington, D.C. He earned his BSc, MSc, and PhD at the Philadelphia College of Pharmacy and Science.
Dr. Lamy came to the University of Maryland in 1963, where he held dual appointments at the School of Pharmacy and the School of Medicine. In 1978, he established the Center for the Study of Pharmacy and Therapeutics for the Elderly (CSPTE), the first center of its kind in a pharmacy school. In 1980, Dr. Lamy published Prescribing for the Elderly, a landmark text and best seller in this emerging field. A prolific writer, Dr. Lamy published more than 400 articles in the area of geriatrics and gerontology during his career, and was widely recognized as the pre-eminent scholar in this field. He also served on the editorial review boards for various professional publications, including Cardiology, World News, Geriatric Medicine Today, and Welcome Trends in Hospital Pharmacy.
Dr. Lamy also served as a consultant to local, national, and international organizations, including the American Association of Retired Persons, the World Health Organization, and the governments of Spain and Ireland. He won pharmacy's highest award, the Remington Honor Medal, in 1988, as well as the George F. Archambault Award of the American Society of Consultant Pharmacists and the Maryland Office on Aging Distinguished Leadership Award.
His accomplishments at the University of Maryland were legendary. As a teacher, mentor, and colleague, Dr. Lamy is remembered as a man of ideas who "worked beyond the walls." In addition to leading the CSPTE, he developed ElderHealth and ElderCare programs to inform practitioners and the elderly about best practices in medication use. The culmination of his career occurred in 1992, when Dr. Lamy was appointed to the endowed Parke-Davis Chair in Geriatric Pharmacotherapy.