The Clinical Pharmacology Unit (CPU) in the Department of Pharmacy Practice and Science at the University of Maryland School of Pharmacy is a leader in conducting clinical research for professionals in academia, contract research organizations, and the pharmaceutical industry.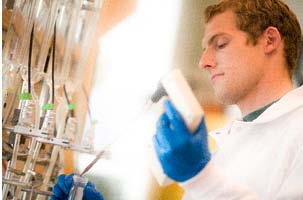 The CPU prepares reports in accordance with Food and Drug Administration (FDA) guidance in the development of both IND and NDA submissions and investigational brochures.
The CPU customizes its approach to meet our clients' needs, including:
Protocol design and review
Dosing plans
Subject recruitment
Interpretation of PK (pharmacokinetic)/ PD (pharmacodynamic) from phase I-IV trial sample data
The CPU conducts state-of-the-art laboratory analysis (LC/MS/MS) of pharmacotherapeutic compounds and biomarkers in a variety of biological matrices. This includes ADME (absorption, distribution, metabolism, and excretion), PK, and PD studies. Working with clinical investigators in academic research units, the pharmaceutical industry, and contract research organizations, the CPU offers customized solutions for our clients' clinical research needs.
Clinical trial modeling and simulations
Phase I and II clinical trial design and protocol review
Design and conduct kidney function testing (GFR/ERPF)
Cotinine analyses for smoking exposure
Perform in vitro studies such as drug uptake, transport, and liver metabolism
Analyze study data using PK and PD modeling
Perform pharmacogenomics studies
Conduct preclinical pharmacokinetic distribution and toxicology studies
Prepare clinical pharmacology sections of FDA applications