Patients enrolled in the P3 Program® receive expert medication guidance from a trained and certified personal pharmacist who will work closely with their doctor to ensure that specific health goals are met.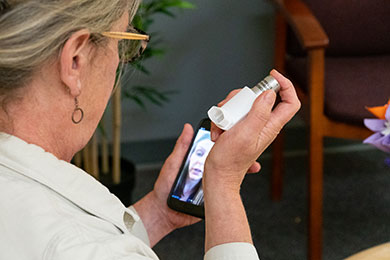 If you answer "yes" to any of the following questions, please contact the P3 Program to learn more about how our specially trained pharmacists might be able to assist you.
Do you sometimes struggle with adhering to your medication regimen as prescribed by your doctor?
Do you have a desire to quit smoking or using tobacco, but have difficulty quitting completely and successfully?
Are you interested in saving money on your medications?
Do you have a hard time understanding the benefits and side effects of your medications?
Are you concerned about whether you are taking your medications correctly?
Do you need assistance controlling your blood pressure, blood glucose, cholesterol, asthma, or other chronic medical condition?
Would you appreciate flexible access to your pharmacist through videoconferencing, telepharmacy, and face-to-face interaction that is private, secure, and accommodates your schedule?
Do you qualify for waived copay programs and need details?
Contact the P3 Program within the Center for Innovative Pharmacy Solutions (CIPS) at the University of Maryland School of Pharmacy at (410) 706-1257 or cips@rx.umaryland.edu to learn more.