Student pharmacists who register to attend the Advanced Pharmacy Practice Experience (APPE) Rotation Site Fair must follow the guidelines listed below when interacting with preceptors at the event.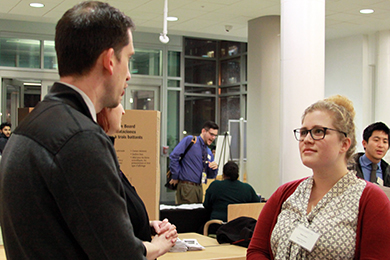 Students must wear business casual attire.
Students are not allowed to make any rotation reservations with the preceptors/sites. However, students can encourage the preceptors to submit their availability on CORE ELMS.

Students should refrain from having the preceptor contact Mr. Thomas to reserve their availability for a particular student.
If the preceptor did not submit their availability and needs assistance with submitting their availability, please have them contact Mr. Thomas at nthomas@rx.umaryland.edu.

Students are not allowed to submit any documentation to preceptors (i.e., CVs, resumes, letters of interests, site paperwork, or background check information).

In the event that there is a site present where a student has been preassigned, the student should not use the opportunity to submit any site requirements or documentation to the preceptor. The student should streamline the site requirements to the site per the instructions on CORE ELMS.

Students are encouraged to discuss rotation/site specifics with preceptors and ask about their availability.

Students are allowed to accept any handouts, site publications, and business cards the preceptors have to share.

Students can ask about other pharmacists at the site if they are interested in becoming a preceptor.

If the preceptor has other pharmacists that would like to become preceptors, students can direct them to our website to complete the online preceptor application.
PLEASE NOTE: Any interaction or exchange of information with the preceptors does not guarantee a rotation with the preceptor or site. The goal of the APPE Rotation Site Fair is for sites/preceptors to meet our students and staff, as well as market their sites/rotations, and for students to have an opportunity to meet preceptors and learn about potential fourth-year rotation sites.