The PhD in Pharmaceutical Sciences (PSC) program trains students for outstanding careers in government, academia, and industry.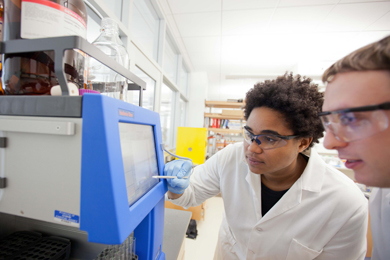 Student Life:
Students enrolled in the PhD in Pharmaceutical Sciences (PSC) program are considered full-time. Once enrolled, they are expected to be fully engaged in curricular studies, research, and teaching activities. Students enjoy the opportunity to enroll in a variety of didactic courses and engage in exciting multidisciplinary research activities.
In the first two years, students spend equal time between course work and research. In general, first-year students serve as teaching assistants for required PharmD courses. At the end of the first year, and upon completion of the laboratory rotations, students are matched with research mentors. After the second year, students are primarily engaged in independent research.
In the fall of the third year, students take the qualifying examination. This involves writing an original research proposal, written answers to questions posed by committee members, and defending the proposal in an oral examination. Successful completion allows the student to gain candidacy towards the PhD degree and fully engage in their independent research project.
Campus Life:
Downtown Baltimore is an exciting place to live and work, offering all the amenities of a large city and the charm of a small town. There is lively nightlife and eclectic dining, shopping, a symphony orchestra, and theaters that host Broadway plays. The Baltimore campus is within walking distance to attractions such as Camden Yards, home of the Baltimore Orioles, M&T Bank Stadium, home of the Baltimore Ravens, and the Inner Harbor. Learn More
Student Organizations:
Students are active members in the student chapters of various professional organizations. Two primary organizations include:
American Association of Pharmaceutical Scientists (AAPS)
The American Association of Pharmaceutical Scientists Student Chapter enhances the career development of graduate students by hosting scientific and career oriented seminars and providing social and networking opportunities.
Pharmacy Graduate Student Association (PGSA)
The Pharmacy Graduate Student Association organizes events for School of Pharmacy graduate students.